this weekend was amazing! we could have gone anywhere and i would have been happy to spend some good time with my loves. but going to the fair & ikea? that really topped it.
this was l's first trip to a fair and it's safe to say she LOVED it. ask her what was her favorite part? the pirate show with dogs & cats. i keep asking & that's always her answer!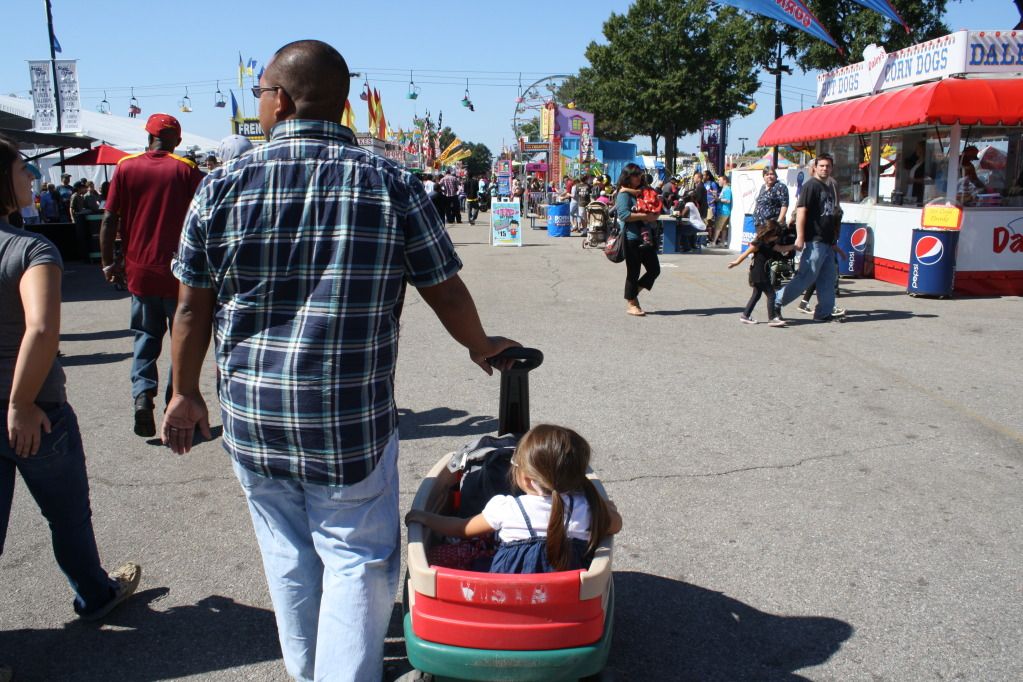 we saw tons of animals. horses, dogs, cats, turkeys, rabbits, ducks & a sea lion show! we saw pigs race, swim & eat oreo's. we ate. funnel cakes, candy apples, cookies, cotton candy, cheese steaks and candy. we played games! well, we let l-bug play games. and she rode a carousel that went way too fast for a two year old. she wasn't too happy about riding it but asked to ride it again later. kids, ha!
we had a lot of fun! it was amazing to watch it all through a child's point of view. to see how amazing lia was at everything that was going on and the little prizes she won. being almost three is a pretty awesome age.
we headed to ikea the next morning. it was only about 2 hours from our hotel and we were EXCITED! i kept telling l-bug that this awesome store had toys & ice cream.
we planned on exchanging our old mattress for a new one. their 25 year warranty on the mattresses are awesome. and we wanted to grab a few things for christmas gifts. we may have ate a lot there too.
ha! we left with a car full :) but when you live 4 hours from ikea, you have to take advantage of it while you are there. we got lots of treasures for our new home. a herringbone door mat. new juice glasses, trash cans & art supplies for the kiddo. several christmas presents for her too. our new SO comfy mattress. oh, and a new breakfast table!
i LOVE our table. i always have. but it's 5 years old and is covered with some scratches & nicks and food from the kiddo. i planned on attempting to paint it and fix it up for the new house. but let's be real - i either never would or i would mess it up trying. we saw a table almost identical to ours at ikea for $120, not including chairs. not a bad price, but we weren't in the market for furniture yet. except, i saw the exact table with one small little dent in the AS-IS section. it was marked as a different table so i asked an employee how much it was. he came back with a price that was about 50% less than the original price. it was meant to be. and sending up a quick prayer about it didn't hurt! so we brought the pretty and free of gunked-on-food table home! also, it was already put together. if you know anything about ikea furniture, you know this is an amazing plus! it's a few inches smaller and a tad shorter than our old one but it will be perfect. now we need to hunt down some cheap chairs!
it's funny how little things like a lazy susan for our table and a new door mat can make me THIS much more excited to move in our new house. almost down to a month left. we're dealing with the loan/mortage process now. we are more than pre-approved, but we have to submit more paperwork this week so we are sorting all of that out. this is the nerve-wracking part.
now it's back to the daily grind. lots of laundry & dishes are waiting on me! monday is half over and so far, we've had a great start to our week.

ps. toby did great at doggie camp this weekend. he had no problems & earned the title of the fastest dachshund around. i think he made the camp staff work out a bit.