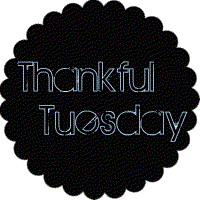 Thankful Tuesday is coming at you late today. My days have been BUSY! Just since Saturday, I've had Ikea trips, building sofas, a babyshower, WIC appt, doctor appt, 4 trips to Target/grocery stores, a birthday dinner for a friend and a spouse's luncheon.
Whew!
Therefore, I'll leave the linky up until tomorrow if anyone (
seriously, anyone at all?!
) wants to join in. I know you have
something
to be thankful for!
That being said...this week I am thankful for:
A good community of people. Not everyone in NY is great, but the military spouses here can be pretty close and that's nice to have.
A warm house because of this snow storm headed our way.
The snowstorm.
So maybe life will stop for a day and I can play catch-up with the house!
A beautiful little girl. She never ceases to put a smile on my face.
My house being completely fixed.
Our new sofa.
It's so comfy.
Having places to go this week so L and I weren't stuck at home everyday.
My new followers! You guys are awesome.
It amazes me that you guys want to read what my life is about!