I almost forgot this weeks post!
It's been a rough few days. I'm stressed, disorganized, annoyed. I don't work well when things aren't in place and life is upside down. It's really something I should strive to improve on
. It would come in handy, considering I still have to finish planning L's party on Friday.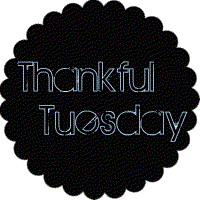 I'm not doing very well at it, but I'm trying to make do and look on the bright side of things.
Here's what I am thankful for this week:
L turning one tomorrow.
The cinnamon + sugar candle my sister gave me for Christmas.
It smells so good!
Our tree being set up in the dining room, so it and the gifts weren't ruined in the leak.
Snow. It may be a hassle, mess, and a setback but when I was down yesterday, playing in it really boosted my mood.
My new camera.
I am in lurve with it.
And, my new mixer.
Which I can't wait to properly try out.
Friends who are more like family and come to our rescue when we need it.
My blog - so, If I need to spill my guts or vent about things happening...I can.
My husband. He shoveled a lot of snow yesterday! And, trekked out in the mess to pick up some milk and go to the post office for me.
So sweet!
Grab the button from the left side of my blog, write your own "thankful" post and link up!