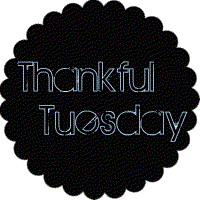 It's time for the Thankful Tuesday blog hop!
It's fun and simple to join in - post your own "thankful" post, use the button above if you'd like, link up and find new blogs.
I'll follow back whoever joins in.


I'm thankful for:
L teething two teeth without any extra crankiness, sickness, or pain. I would have never known they were there if I wasn't brushing her teeth!
The two Christmas parties we went to thrown for the marines and their families. We won so many prizes and L got quite a few toys. And, she got to meet Santa. I feel so blessed!
Finally finishing all of the Christmas shopping + wrapping. Now, all I have to is stuff the stockings and bake a few more goodies!
Early vision tests at the pediatricians office that detected Lia's astigmatism.
My husband. Even when we have bad days, I know we're growing together and I wouldn't change that for the world.
A GREAT pediatrician's office.
My notebook/organizer. I write everything down in this thing - and it's really helping me organize my head in order to plan Christmas and L's birthday!
What are you thankful for?