Everyone gives thanks during November and the Thanksgiving season. But, I want to make it a point to always show what I am grateful for.
I am starting up a new weekly post. Thankful Tuesday. It can be one thing, it can be ten things. Just a post on what you are thankful for that week.
This isn't a original idea. It's inspired by several different blogs I've read. However, I don't know of one still doing it as a weekly post.
I'll add a linky, I'd love for you to join along!
I am thankful for:
My hubby.
Who got up early yesterday morning to mop the floors for me.
A heater
. It's getting cold outside!
Remote start in my car too!
Friends who drop by with a jar of cookie mix.
Finding new blogs to read.
My new handheld vacuum. It makes cleaning up L's highchair SO much easier.
Our beautiful Christmas tree and all the presents underneath.
We have some great families who really spoil us.
Feel free to grab the button below to add to your post.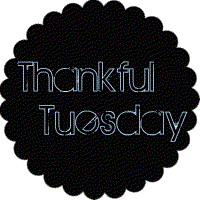 I know it's almost 4:30 pm on the east coast. Next week, it will start earlier. I promise!