This past weekend, we took L to her 1st pumpkin patch! I had a total photograph related mommy brain incident and forgot to take all the cute picture ideas I had thought of before. Maybe I was overwhelmed with how cute L looked sitting by herself in the wagon! Here are the few pictures I took. But, I have a few poses in mind we'll do at the house soon.
Being such a BIG girl!
She isn't so sure about this big orange thing!
She's checking them out...
We had a great time. We've been to this particular pumpkin patch every year we've lived here in New York. And, I was going to post of a picture of me with L in the belly at the pumpkin patch last year but I can't hunt it down anywhere!
But my point is that I CAN'T believe she is already so big. She's eleven days shy of being 10 months!!
I am enjoying every moment of her and I am thrilled that the holidays are right around the corner. I am so excited for everything to come!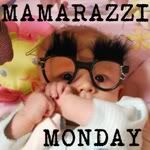 Link up your post over
here
.