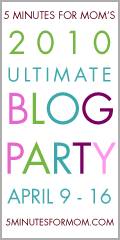 It's officially time for the Ultimate Blog Party 2010 hosted by
5 minutes for moms
. It sounds like a heap full of fun. You meet new blog friends, find great new blogs and have a chance to win some prizes (who doesn't like prizes?!).
There's some great prizes too!
My top picks if i'm so lucky to win are...
16 - A custom made tutu for my little girl
USC 3 - $50 giftcard to Target
USC 60 - $200 gift certificate for any Wall Slicks.
If my top 3 are taken, i'd love 7 (tupperware) or 12 (netflix) or anything for babies (my daughter is 3 months old!) or Target /Bath + Body works giftcards.
It's simple. Just write up your party post, post the link over on 5 minutes for moms and start commenting on everyone else!
So without further ado...
Hello other UBP bloggers! I'm Kristy, a 23 yr old wife + mother. I started blogging about 2 years ago to keep our family connected to my hubby (we'll call him M) and I. We have family all around the world, literaly. The furthest are in Germany + Mexico (but i'm pretty sure we don't have any followers in Mexico!) I met M four years ago when he was stationed at a marine corp base about an hour from my hometown in North Carolina. We hit it off, got married a year later and have been inseperable since. Our daughter, Lia, is 3 months old. We are constantly amazed by her. I'm a SAH mom to Lia. We're lucky enough (still clueless how!) to be able to afford me staying at home with her and I really enjoy it. Of course, blogs + twitter help me stay sane when the only other human interaction I get is Lia! We're currently living in Long Island until it's time for our next duty station. M has been in the marine corp for about 6 years and until he decides he is done, Lia and I will follow + support him everywhere it leads us.
As for me, I'm pretty easy-going. Give me a pretty day, a book, + a tall glass of sweet tea and i'm set. I love family + reading. The beach is where I spent all summer at back home (
LI beaches just aren't the same
). I tend to leave most of our bank account in Target everytime I go (
who doesn't though?!
). And, i've got the coolest weiner ever (
my dachshund, of course!
)
My blog is about my family and our military life. Most posts are all about Lia + chock full of her photos! Seriously, one look at that adorable face and you're hooked! It's called "A Little Something" so I like to add a little something every week. Usually just a photo of something fun or inspiring or those "little somethings" in life that are extras that make life more exciting (
like the nuts on a chocolate sudae
).
Can't wait to meet you party bloggers!
P.S.
My twitter is mama2lia - Love to meet all you other "tweeters" out there!